Be Interactive. Stay Engaged. Master Your Craft.
Online Graduate Classes for Educators from PLS Classes.
New to online classes? Here's what to expect after you register for an online graduate class:
You will receive a registration confirmation email from register@plsclasses.com with the course and instructor information.
No later than the Friday before the class start date, you will receive an email from your class instructor that includes login information.

In addition, you will receive a phone call from your instructor by this date
(if in the U.S.).

Use your login information to access our web-based learning platform, Canvas.
To prepare for the class, you should:

Review tutorials.
Complete your profile.
Set up notification preferences.

You will receive an invitation to join the course directly from
Canvas (do-not-reply@pls3rdlearning.com) on the class start date.
You will gain access to the course at 9 am on the class start date (always a Tuesday).
Log into Canvas, access the course, and your professional learning experience begins!
Using Canvas: A Video Tutorial
For a quick look at how to navigate our web-based learning platform, Canvas, check out this video tutorial: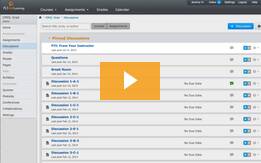 A Formal Letter to Educators
We know that educators often question the integrity of an online course. At PLS Classes, we are dedicated to developing online courses rooted in research-based best practices for online learning, including vigorous coursework and the use of relevant technologies. If you require additional documentation for school leadership, we invite you to download and distribute this formal letter.
If you have any questions regarding your online graduate class experience, please contact us.